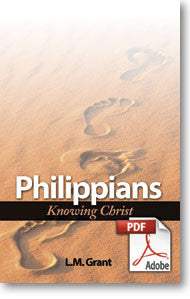 Philippians: Knowing Christ (Printable eBook)
---
---
Estimated shipping date: Today (Click for more details)

Order by 1pm ET today for same-day shipping.

SKU:
Format: Printable PDF
Author: Grant, L.M.
Pages: 54
---
With a deep, peaceful joy Paul writes his Epistle to the Philippians. Imprisoned in Rome, he considered himself the Lord's prisoner, placed there by Divine wisdom for the carrying out of God's will and work. Hence, his joy comes from the highest source: his loneliness and bondage but give occasion to the more constant, real fellowship of the presence of God, and his cup runs over.
The epistle is plainly pastoral, refreshing, and encouraging, rather than correcting or setting forth the doctrines of Christianity. Experience consistent with doctrine is the subject here--not indeed the experience of every Christian, but the experience normally begotten by the knowledge of Christ.
This PDF eBook includes the cover of the book, and is readable using the free Adobe Acrobat reader. In addition to reading this book on your computer, many portable devices may be able to display it, and you can also print as many pages as you wish.
---