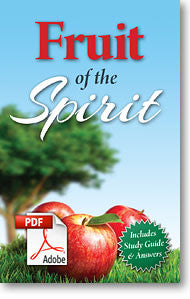 Fruit of the Spirit (Printable eBook)
---
---
Estimated shipping date: Friday, December 1 (Click for more details)

Order by 1pm ET tomorrow for shipping by Friday, December 1.

SKU:
Format: Printable PDF
Author: Canner, Paul L.
Pages: 48
---
Includes Study Guide.
What is the principal work of the Holy Spirit?
Is the gift of tongues a necessary sign of the indwelling of the Holy Spirit?
What are some of the characteristics and manifestations of love?
How has God shown His love to us?
How is "joy" related to "grace"?
How is it possible to be joyful when going through a deep trial?
What is the difference between having peace with God and having the peace of God?
How can we keep from worrying about things?
What is the difference between longsuffering and patience?
How can one be good without being kind and gentle?
How can one be righteous without being good?
Why does God sometimes test our faith?
What kinds of things does God leave us to work out by ourselves without our having to trust Him?
What is the purpose of making wedding vows?
What is the difference between gentleness and humility? How do we overcome the problem of words popping out of our mouths that we later regret?
These and many other questions relating to our Christian lives are answered in this book by studying the Scriptures concerning the ninefold fruit of the Spirit.
This PDF eBook includes the cover of the book, and is readable using the free Adobe Acrobat reader. In addition to reading this book on your computer, many portable devices may be able to display it, and you can also print as many pages as you wish for personal and class use.
---