Ways to Use Tracts
Posted on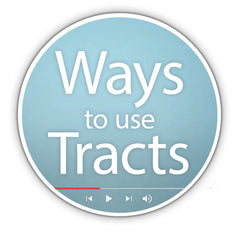 Looking for some practical and effective ways to use tracts? We just added a collection of short videos to give you ideas and inspiration! 
Put in pockets of used clothing given away
Leave in laundromats
Leave in motel rooms (in drawers or near the Gideon Bible)
Put in returned library books
Include with a generous tip in restaurants
Enclose in each box or bag of merchandise you sell
Give with cookies (or gifts) to neighbors
Enclose with Christmas cards
Place in church bulletins
Hand to anyone who works in your house (electricians, plumbers, etc.)
Use as a conversation starter
Use as a teaching tool
Give to trick-or-treaters
Give a tract, along with the money, as you pay at a fast food drive-thru
Use tracts to communicate in languages you don't speak
Include with treat bags
Use your imagination for endless possibilities!
---
Share this post
---