It's Never Too Early to Start Planning Your Next Outreach
Posted on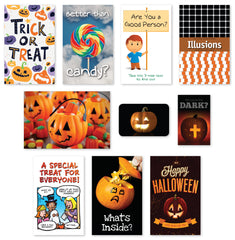 Give trick-or-treaters something sweeter than candy this year. When princesses and pirates flood your front door, hand them candy and a Gospel tract!
MWTB offers many different resources that are just right for your outreach needs. From engaging cartoon tracts to amazing motion tracts, we've got you covered. Check out all of our Halloween tracts!
During the Halloween season, there are so many opportunities to share the Gospel:
Give tracts to trick-or-treaters
Hand out tracts at Halloween parades
Share tracts with Trunk-or-Treaters
Distribute tracts to people who are waiting for an event
Distribute during fall festivals
Include tracts with treat bags
Hand out with candy
Use your imagination for endless possibilities!
---
Share this post
---