Because He Lives
Posted on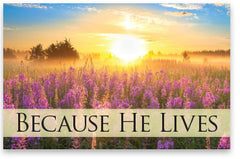 Hot off the press and ready for Easter!
This gorgeous new mini card tract shares the blessings of the risen Christ, who is our Living Savior (Romans 10:9), Divine Mediator (Romans 8:34), and gives us an Undying Promise (John 11:25).
Available in both KJV and NKJV versions for just $1.50 per 20, or $4.50 per 100.
---
Share this post
---