New Motion Tract—You Matter
Posted on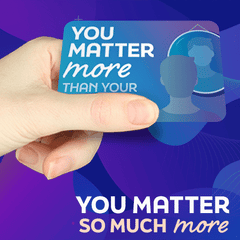 Your true worth is not defined by what you own, your appearance, or the opinions of others. You matter because God says so! From the moment He created you, He's never stopped thinking about you. Listen to God's word:

"Thus says the Lord who made you and formed you … I have loved you with an everlasting love … I have heard your prayer, I have seen your tears … The very hairs of your head are all numbered … If God is for us, who can be against us?" (Isaiah 44:2; Jeremiah 31:3; 2 Kings 20:5; Luke 12:7; Romans 8:31)

God loves you, and wants you to know Him and experience His forgiveness. You matter to God, does He matter to you?
Who in your life needs to hear this message? It's now available for ordering!
---
Share this post
---