Moments For You: Humility
Posted on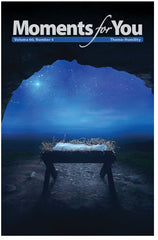 "God resisteth the proud, but giveth grace unto the humble." (James 4:6).
God loves a humble heart. Join us as we examine why this is true, and study some examples of humility found in the Bible.
Along the way, we'll look at the problem of pride, and define "True Greatness" from God's perspective.
We trust you'll be blessed by this newest issue of "Moments For You."
---
Share this post
---