God is So Good!
Posted on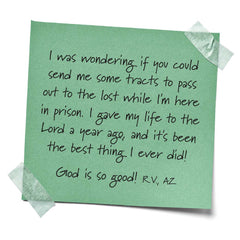 "I was wondering if you could send me some tracts to pass out to the lost while I'm here in prison. I gave my life to the Lord a year ago, and it's been the best thing I ever did! God is so good!" R.V., AZ
Our team loves getting letters like this in the mail! God is truly so good.
Have a report or testimony to share? Please drop us a note so we can rejoice with you!
---
Share this post
---