Prison Ministry Testimonial
Posted on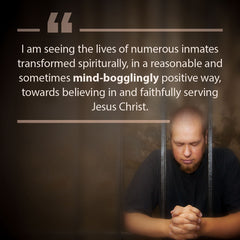 I am writing to present my huge, written THANK YOU for working with David Berkowitz in New York (formerly known as the "Son of Sam" serial killer) to produce "The Son of Hope" tract. I have use it successfully in sharing the good news of the gospel of Jesus Christ with inmates at a state prison in California. 
This particular Bible tract, since being co-produced in some measure by David Berkowitz, a convicted criminal himself, is a wonderful testimony to what Jesus Christ can do to bring transformation in humankind, from spiritual death to spiritual life, within a man's heart.
Because of your work with David, this particular Bible tract has led numbers of convicted felons / inmates to a saving faith in the Lord Jesus Christ. I am seeing the lives of numerous inmates transformed spiritually, in a reasonable and sometimes mind-bogglingly positive way, towards believing in and faithfully serving Jesus Christ.
---
Share this post
---