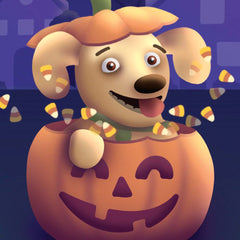 It's fun to play hide-and-seek! But did you know that we can't hide from God?
"The eyes of the Lord are in every place, beholding the evil and the good" (Proverbs 15:3).
God knows you. He sees everything we do, both good and bad. But God loves us very much and sent His Son, Jesus, to take away our sins. If we trust in Jesus, we will live with Him in Heaven forever.
Do you know God? "And this is life eternal, that they might know Thee the only true God, and Jesus Christ, whom Thou hast sent" (John 17:3).
Everyone who puts their trust in Jesus knows God and has eternal life!
#mwtb
#momentswiththebook
#tracts
#evangelism
#gospeltracts
#bibletract
#spreadthegospel
#bible
#holybible
#scripture
#goodnews
#truth
#encouragement
#church
#greatcommission
#gospeltruth
#christian
#pumpkin
#halloween
#trickortreat
#trunkortreat
#halloween2022
#puppy
#motiongraphics
#motiontract
#lenticular
#animation
#animated
#peekaboo
#hideandseek
---
Share this post
---