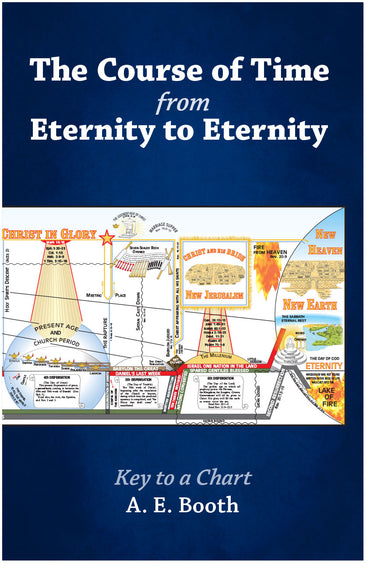 The Course of Time From Eternity to Eternity (Booklet)
---
---
Estimated shipping date: Monday, December 4 (Click for more details)

Order by 1pm ET tomorrow for shipping by Monday, December 4.

SKU:
Format: Booklet
Author: Booth, A.E.
Pages: 36
---
During a lecture on prophecy at a Bible conference, A. E. Booth was asked to explain the sequence of some events he had mentioned. Taking a pencil, he roughly sketched the seven days of creation and the dispensations they illustrate. The chart on "The Course of Time From Eternity to Eternity" was first published in 1896 and has since been a popular prophetic chart.
In this key to the chart, Mr. Booth teaches and reveals the Bible's truths from eternity to eternity.
The cover of the book includes complete (but small) image of the chart. Need a larger or standalone copy of the chart? You can order those here, or even create a bundle with the booklet and the chart.
---