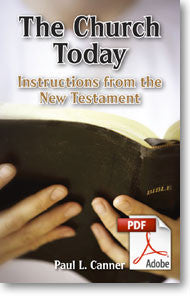 The Church Today: Instructions from the New Testament (Printable eBook)
---
---
Estimated shipping date: Monday, December 4 (Click for more details)

Order by 1pm ET tomorrow for shipping by Monday, December 4.

SKU:
Format: Printable PDF
Author: Canner, Paul L.
Pages: 68
---
What does the word "church" mean?
When did the Church begin?
Are we to "go to the church of our choice"?
Is it God's purpose to have thousands of denominations of Christians?
What are letters of commendation and when are they used?
Should there be separate churches for people of different ethnic backgrounds?
What does the Bible say about independent Bible churches?
What is "the house of God"?
When are "two or three gathered together" unto the name of the Lord Jesus Christ?
When do we "let the prophets speak two or three"?
How frequently should the Lord's Supper be observed?
Who are Christian priests and what do they do?
What does the Bible say about a clergy-laity distinction?
Who are recipients of spiritual gifts?
What are the responsibilities of elders and deacons?
How is church discipline to be carried out?
These and many other questions relating to the Church are answered in this book, either directly by Scripture or by appeal to general principles of Scripture.
This PDF eBook includes the cover of the book, and is readable using the free Adobe Acrobat reader. In addition to reading this book on your computer, many portable devices may be able to display it, and you can also print as many pages as you wish.
---