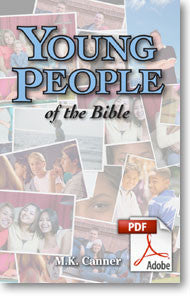 Young People of the Bible (Printable eBook)
---
---
Estimated shipping date: Monday, December 4 (Click for more details)

Order by 1pm ET tomorrow for shipping by Monday, December 4.

SKU:
Format: Printable PDF
Author: Canner, M.K.
Pages: 40
---
What are some consequences of making fun of your younger brother or sister?
How do you respond when your parents ask you to do something you consider to be unpleasant?
Can any good come from leaving the happy home of your childhood, never to return again?
Have you ever made a bargain that didn't turn out very well for you?
Is popularity worth the cost?
Does it pay to do right?
Have you ever stood up to a big bully?
What is true friendship?
Have you ever turned down a free gift?
Will God forgive everyone?
How should you choose goals for your life?
How can you behave well if your parents were not good parents?
How early in life should you begin to pray, participate in Bible studies, and serve the Lord?
Is premarital chastity important?
Should you ever try to set a good example for older people?
These questions are addressed in this book by studying the lives of some young people of the Bible.
This PDF eBook includes the cover of the book, and is readable using the free Adobe Acrobat reader. In addition to reading this book on your computer, many portable devices may be able to display it, and you can also print as many pages as you wish.
---